Why the flu shot for fertility patients can be an important part of building a family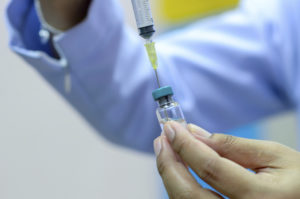 The doctors at our Indianapolis fertility center recommend the flu shot for fertility patients for a variety of reasons. This protective measure can make a significant difference in a patient's path to parenthood as it can protect them from a serious illness. Because of this, patients should consider receiving the influenza vaccine as we move into flu season.
What to know about the flu shot for fertility patients
A primary reason why our team recommends the flu shot for fertility patients is that the Centers for Disease Control and Prevention (CDC) advises that all individuals actively pursuing pregnancy should receive this annual vaccine. In addition to this recommendation, there are many reasons to get the flu shot when trying to become pregnant.
Helps you avoid interruption in your fertility care. As contracting the flu can require you to pause your fertility treatments, getting the flu shot can help ensure your fertility care continues on its current timeline.
Safe to receive the flu shot when undergoing fertility treatments. The flu shot should not have a negative effect on the treatments patients receive at our Indianapolis fertility center.
Incredibly effective. The CDC found that between 2019 and 2020 the flu vaccine prevented an estimated 7.5 million influenza illnesses, 3.7 million influenza-associated medical visits, 105,000 influenza-associated hospitalizations and 6,300 influenza-associated deaths.
Lowers your chance of developing serious symptoms. While the flu shot doesn't guarantee you will not contract the flu, it has been shown to reduce the risk of having to go to the doctor with the flu by 40% to 60%.
Receiving the flu shot is one of the best ways for patients to stay healthy during flu season and continue on the path to developing a healthy pregnancy.
How to avoid the flu
In addition to getting the flu shot for fertility patients, there are many ways an individual can help reduce their chance of contracting the flu. These protective measures can support patients in staying healthy throughout their fertility care.
Thoroughly wash hands. Washing your hands with soap and water for at least 20 seconds can significantly reduce your chance of contracting the flu and spreading germs. When soap and water aren't available, use a hand sanitizer that's at least 60% alcohol.
Avoid touching your face. Because germs enter the body through the eyes, nose and mouth, it's important to not touch your face if you haven't washed your hands.
Wear a mask in public spaces. You can reduce your chance of contracting the flu by wearing a mask whenever you're indoors with anyone you don't live with and in outdoor environments where you can't socially distance.
If you do get the flu, it's important to seek early treatment and stay home until 24 hours after your fever resolves.
Reasons to get the COVID vaccine
Another important immunization for fertility patients to consider is the COVID vaccine. This vaccination can provide patients with invaluable protection against this virus. COVID can cause serious illness in pregnant women. It's been found that COVID can increase the risk of adverse outcomes in pregnancy, including preterm delivery, which means the baby is born before 37 weeks of gestation.
Our Indianapolis fertility center is here to support patients as they work to prevent health issues that could affect their journey to parenthood. Contact us for more information about important vaccinations.