Learn about the advantages of telemedicine in fertility care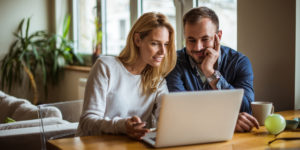 For people who need fertility treatment, timing is critical. The advantages of telemedicine make it possible for fertility patients to move forward toward their goals, regardless of any outside factors that may limit access to an in-office visit.
Because so many people have computers and mobile devices, as well as high-speed internet, telemedicine has been growing in popularity for some time. The coronavirus crisis created a shift, with more people working, socializing and shopping from home to limit in-person contact. With that shift came increased usage of videoconferencing technology for medical services.
What are the advantages of telemedicine for fertility patients?
Midwest Fertility Specialists (MFS) raised the bar for telemedicine fertility care in Indiana during the COVID-19 crisis, increasing our use of videoconferencing to replace many office visits and keep our patients and employees safe. 
Many of the men and women in our care are surprised by the number of services that we can provide through telehealth for fertility care. There are many advantages of telemedicine for fertility patients whose needs are appropriate for remote care.
Same quality of care from trusted MFS physicians

Ability to get a head start on your treatment plan

No time spent in waiting rooms 

No risk of exposure to infectious disease from close contact with others

Avoid battling traffic or spending money on gas or transportation

Less time away from work and family obligations

No need to secure childcare
When does MFS use telehealth for fertility care?
While MFS will open for in-office visits in accordance with state guidelines, we are using telemedicine visits whenever possible. All new patients are encouraged to contact us to request telehealth for fertility care to get a head start on treatment. Remote video consultations are appropriate for several types of appointments and are open to all new and existing patients seeking telemedicine fertility care in Indiana.
Visits with current patients who are not in cycle

Any visits that do not require a physical examination, testing or procedure
When an in-office appointment is required, every aspect of your visit will be carefully managed for your comfort and safety.
Access telemedicine fertility care today
With telemedicine as an option, there is no need for people to delay getting the treatment they need. If you're looking for telemedicine fertility care in Indiana, contact Midwest Fertility Specialists to schedule a visit and experience the advantages of telemedicine for fertility care.