Dr. O'Leary always discusses lifestyle factors and fertility with her patients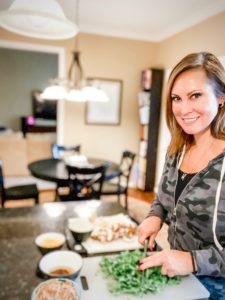 From the first appointment with Dr. Kate O'Leary, it's clear that this Carmel fertility doctor believes in treating the whole person. "Each patient is so much more than a fertility diagnosis," she explains. "It's important to consider their overall physical and emotional health as well as lifestyle factors and fertility."
Dr. O'Leary believes it's important to think about lifestyle when conceiving
In the past, not all fertility doctors considered the link between lifestyle factors and fertility. However, this is slowly changing as physicians like Dr. O'Leary begin to focus on these topics in their practice.
According to Dr. O'Leary, "Lifestyle factors play a huge role when it comes to fertility and conception. That's why I always discuss issues like nutrition, exercise, supplements and stress management with my patients. I'm also working to get board certified in lifestyle medicine."
This is good news because all of us are facing unique challenges today that could have health consequences for ourselves and future generations. "Everything from toxins and endocrine disruptors to poor nutrition and metabolic issues can have health and fertility consequences. They can also cause problems for our children and grandchildren," Dr. O'Leary says.
Every step of the way, Dr. O'Leary considers lifestyle factors and fertility
From the first appointment, Dr. O'Leary takes the time to have a comprehensive discussion about health and wellness. "I ask about more than just a patient's fertility struggles because lifestyle factors and fertility are intertwined," she explains.
After getting a complete picture of a patient's health, wellness and lifestyle, this Carmel fertility doctor works with patients to develop a treatment plan. According to Dr. O'Leary, "As a physician, I work with patients to develop strategies that help them reach their family-building goals and achieve lifelong health."
In some cases, this may involve helping a patient with smoking cessation. Other times, Dr. O'Leary may work with a hopeful parent to develop a plan for nutrition and exercise or stress management. Her recommendations are always customized to meet each patient's unique needs and goals.
Want to schedule an appointment with Dr. O'Leary? Contact us today and start on the path to parenthood and wellness with this Carmel fertility doctor.