We provide high-quality support to men facing Father's Day and male infertility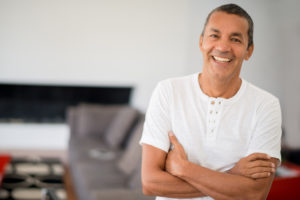 Every Indianapolis fertility specialist at our clinic understands that Father's Day and male infertility can create a difficult situation for men. When a man has been trying to become a father, the arrival of Father's Day can sting. However, for men who have not yet sought out fertility care, this holiday can be a powerful impetus to move forward with male fertility testing and treatment.
Tests to consider when navigating Father's Day and male infertility
Our clinic offers a variety of fertility tests that can help men determine the cause of their fertility challenges. As infertility relates to the male partner about 40% of the time, these tests can provide invaluable information on a man's path to fatherhood.
Semen analysis. This important type of male fertility testing allows an Indianapolis fertility specialist at our clinic to evaluate a man's sperm count, sperm motility and sperm morphology.
Genetic testing. If a man has a low sperm count or the absence of sperm in semen that is not due to a blockage, he may have chromosomal abnormalities. Genetic tests can provide helpful insight into this potential issue.
Hormone evaluation. Fertility specialists commonly test the levels of a man's hormones that affect sperm production and sexual function. These hormones include follicle stimulating hormone (FSH), testosterone and luteinizing hormone (LH).
Specialized exams. If initial male fertility testing doesn't reveal the cause of a man's fertility difficulties, the doctor might recommend specialized exams like hypo-osmotic swelling test, sperm penetration assay or computer-assisted semen analysis (CASA).
After the fertility specialist reviews the results of this male fertility testing, they will explain them to the patient. Then, they will support him in creating a treatment plan that can result in him becoming a father.
Effective treatments for male infertility
Once male fertility testing leads to a diagnosis, the patient can typically move forward with treatment. The fertility treatments doctors often recommend for male patients can help bypass many of the barriers that could be preventing the development of a healthy baby.
In vitro fertilization (IVF) with intracytoplasmic sperm injection (ICSI). This treatment involves an embryologist injecting a single live sperm into the center of a mature egg during an IVF cycle.
IVF with microsurgical epididymal sperm aspiration (MESA). IVF with MESA consists of the surgical collection of semen from hopeful fathers who can produce sperm but cannot ejaculate the sperm.
Intrauterine insemination (IUI). An IUI (artificial insemination) is a short procedure that involves a fertility doctor inserting sperm into the uterus of a man's partner. The doctor might suggest this treatment for men with antisperm antibodies, a low sperm count or low sperm motility.
IVF with donor sperm. Men who do not have viable sperm can benefit from donor sperm. An embryologist can use this donor sperm to fertilize eggs during an IVF cycle.
With the expert support of an Indianapolis fertility specialist at our clinic, Father's Day and male infertility don't have to be stressful for men. Receiving treatment from our clinic can lead to this special day in June being one of the favorite times of the year for our male patients. Contact us to learn more about Father's Day and male infertility.